Elegance, austerity and a touch of maroccan style here is the notes that have characterized the parade of Lanvin at the Paris Fashion Week.
Lanvin , important maison French fashion, has led to the catwalk a really intense collection.
The genius and the creative spirit of the designer Alber Elbaz has sported a spectacular show, where valuable texture, exquisite embroidery, refinement in the prints and patterns meet intense colors and impact, to create a truly overwhelming nuances game.
A must-see show, a breathtaking collection that screams femininity, for a charming woman, mysterious and self-confident.
Femininity, elegance and a trip to Africa
L '2015/2016 autumn-winter Lanvin features dresses with large and well-defined lengths, proportions that overlap, precious stone textures and floral decorations mixed with arabesque motifs.
Start the show and burst onto the scene an outfit reminiscent of the riders: soft trousers with double red lateral line and long blacks boots with two small tassels on the front, white t-shirt paired with a stylish blue blazer night.
He following definitely puts different: sinuous dresses by well-defined silhouette with mini narrow waist belts and long slits, long dress from the form peplum worn with flat boots, wide V-neck blouses, velvet dresses, mini dress with floral patterns and capes decorated with nice fringe, pin striped skirts combined with masculine cut blazer tonal and long double-breasted jackets, hats, and even elegant in style Fedora to represent the vision of a chic woman, subway and a bit 'mysterious.
Suddenly it was then catapulted into Africa, because Albert Elbaz introduced in his collection a touch of maroccan style.
nomadic style and references to exotic countries for a real journey in the Mediterranean: these are the characteristics of the entire second part of the parade.
A succession of baggy pants in thick lines, soft chiffon shirts, Vests and jackets with details fur, full skirts with floral decorations, long dress and pants with details arabesques, mini dress with soft lines with a waist belt and long tunics in style gypsy.
Accessories and colors of women signed Lanvin
color tones that reflect the fall and that the designer of the fashion house was able to mix very well, so painting the face of a woman of a thousand shades.
Throughout the first part of the parade to act as hosts are the dark colors and allure staid: black, dark blue, burgundy and dark brown softened by a touch of fiery red and pure white to warm the atmosphere. Following a softer color palette and delicate sweetness and remember to instill the desire to spring: beige, gold, blush, bronze, orange, ocher, sand color, dark green, purple and fuchsia.
Rounding out the major fashion event you can not fail to mention the accessories, such as real protagonists, they have contributed to donate a sophisticated mood, elegant and mysterious at the Lanvin woman.
Mini clutches, shoulder bags bohemian-style clutch bag to tie the wrist, handbag in vintage style, large hats with side bow, hats and necklaces with large pendants. For shoes Lanvin she parades with long flat boots, open sandals and ankle boots with tassels side colors in keeping with the clothing.
A very heterogeneous fashion show, a trip in the scents and flavors of the Mediterranean to the discovery of a new femininity: strong, sophisticated and, at the same time mysterious.
Gallery
Lanvin from I Migliori Look dalla Settimana della Moda di …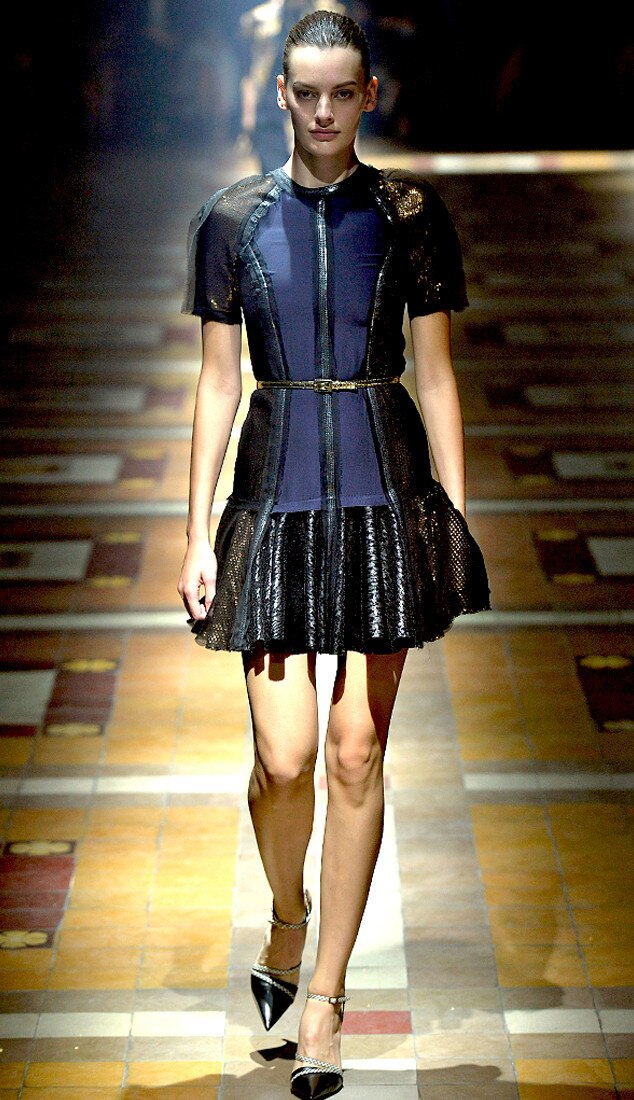 Source: www.eonline.com
Runway : Lanvin, 20 Best Details From Fall 2017 PFW
Source: www.coolchicstylefashion.com
South Korean singer and producer G-Dragon with South …
Source: gettyimages.co.uk
Paris fashion week Fall winter 2015/2016: Chanel, Dior …
Source: www.edoardoalaimo.com
Capelli metallici: rosa, argento e azzurro
Source: youmedia.fanpage.it
Parigi. In scena Lanvin, Rick Owens e Pierre Balmain
Source: www.stile.it
Lanvin collezione donna primavera estate 2016
Source: styleandfashion.blogosfere.it
Lanvin collezione uomo primavera estate 2017
Source: styleandfashion.blogosfere.it
Lanvin collezione uomo primavera estate 2017
Source: styleandfashion.blogosfere.it
Paris Fashion Week 2014
Source: www.homeaway.it
Moda: Jeanne Lanvin in mostra a Parigi
Source: www.tvdaily.it
Moda uomo: le tendenze per l'autunno – inverno 2017/ 2018 …
Source: www.saramuzi.com
Lanvin e Balmain, tra eleganza e audaci giochi di linee …
Source: www.sfilate.it
Moda Parigi, 93 sfilate in nove giorni – Sfilate
Source: www.ansa.it
Karl Lagerfeld in "Saint Tropez"
Source: www.vogue.it
Calendario sfilate pe 2015 settimana della moda Parigi …
Source: www.vanityfair.it
Paris Fashion Week beauty look primavera estate 2014 (Foto …
Source: bellezza.pourfemme.it
Nasce il primo salone riservato ai collezionisti di Hermès …
Source: it.fashionnetwork.com
La camicia con collo alla coreana nella moda uomo per l …
Source: icon.panorama.it
Paris Fashion Week | Tendenze moda
Source: www.fashionblog.it